There is so much to see and do in New Hampshire it really can boggle the mind. There are certain places, certain things to do though, that capture the finest NH is, or has to offer.

To help you, our visitors, here's a list of the ones we think are truly worth going out of your way to see or do, listed by their seasons.

Anytime

Kancamagus Highway, Lincoln - A 'wilderness-feeling' 34 mile road through the heart of the White Mountain National Forest's 1,173 square miles. Rest areas, hiking trails, waterfalls and spectacular views greet you all four seasons but are particularly beautiful and friendly summer and fall.

Hancock Inn, Hancock - When the Hancock Inn began offering accommodations and meals to travelers, George Washington was in the first year of his presidency. Stay or drop in for a meal in this 225+ year old inn.

Winter

Christmas Shopping - Good roads and no sales taxes make NH a perfect destination for Santa's helpers. Manchester, Merrimack, Nashua, Salem, & Portsmouth are perhaps best for day trips: if you are coming for a weekend, consider outlet shopping in the Lake's Region or North Conway.

Rent A Snowmobile - Most of NH's snowmobile rentals are in, or north of the White Mountains, and surprisingly, many of them are offered by motels, and lodges. Almost anytime from Thanksgiving to early April, there is enough snow to enjoy NH on a 'sled.'

Ride the Snow Coach - Specially constructed 4-(tank)track systems allows their 9-passenger Snow Coaches to transport you to the world above Mt. Washington's tree line for a truly unforgettable experience. (December thru March.)

Snow Sculpting, Jackson - Yes, in an average winter, NH has LOTS of snow. We don't build igloos so, this was our alternative (that, and skiing!)

Spring

Bike Week, Laconia [A full week ending Father's Day] - 90+ Years strong, this is arguably the largest event in NH. Book accommodations EARLY...

Visit Anheuser-Busch, Merrimack - Discover how Budweiser is crafted by following it through the steps of the brewing process in a complementary tour. Open daily except national holidays.

Summer

Be a Beach Bunny, Hampton - Rated as one of the 3 cleanest beaches and in the top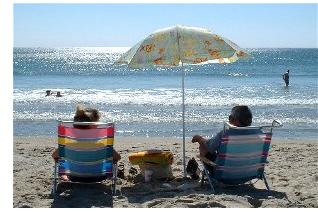 10 resort values in America, you should visit Hampton Beach. 80 Free evening concerts throughout the summer plus weekly fireworks. Bring LOTS of tanning lotion: many people find our beach water too refreshing (cold, dah!)

Craftsmen's Fair, Newbury - League of NH Craftsmen's Fair is 80+ years old. Starting the first Saturday in August and running for nine days, it showcases the work of some of the finest craftspeople in the country.

Dinner On The Lake, Weirs Beach - With 240 habitable islands and 44,000 acres of crystal clear water, no trip to NH would be complete without enjoying a dinner and dance cruise on Lake Winnipesauke sailing the 230 foot long M/S Mount Washington.

Drive the Mt. Washington Auto Road Take your own car to the summit of the Northeast's highest peak. See the Presidential Range from above when you drive your own car or take a comfortable, guided tour.

Enjoy Pancakes, Sugar Hill - If there is a more famous NH restaurant in the North Country, it's escaped us. Visit Polly's Pancake Parlor and be dazzled by day long breakfasts. Try to go for breakfast, or mid-morning. There can be quite a line at lunchtime! DO check their web site for hours of operation. (Seasonal)

Lupine Festival, Sugar Hill [Early thru Mid-June] - Have you ever just wanted to wander in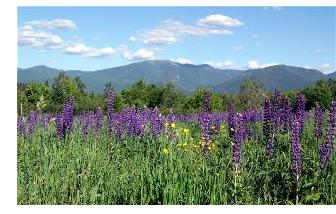 an idyllic pasture, with commanding mountain views, just communing with Mother Nature? Here's your chance. ACRES of cultivated lupin with inspirational signs and mowed pathways in a quaint New England town!

Moose Tours - North America's largest animal by height thrives in our North Country. Come see one on a moose tour. Any summer evening you can depart Gorham or Lincoln and have the thrill of a lifetime.

Mount Washington Omni Hotel, Bretton Woods - A grand old hotel, 100 years ago this property received dozens of daily trains with folks making day
long escapes to the mountains. Like them you don't need to stay overnight - walk their 903 feet of veranda or the grounds, take a free property tour, or free scenic chair lift (summer and early fall seasons), or for a reasonable fee, enjoy their bike rentals, horse back riding, indoor climbing wall, canopy tour, day spa, 27 holes of golf, or share drinks or dine mountainside or in any of their 12 seasonal dining options. Walk where presidents and prime ministers have: call the activities concierge at 603.278.8989 for reservations or more information.

Sunrise Drives, Mt. Washington - Grab your sweetheart and do this one! Drive to the summit of Mt. Washington and watch the sun rise from 6,000+ feet. Breathtaking! [3xs Each Summer]

Swim Off The Beaten Path - NH is full of lakes and steams providing for many unique swimming holes, and perfect for summer relief. Watch out for currents after heavy rains and always be careful diving. Mountain streams can be quite refreshing (read: cold) so choose wisely!

Ride the Cog, Bretton Woods - For almost 150 years, the Mt. Washington Cog Railway, has been carrying passengers to the 6,288-foot summit of Mount Washington. Enjoy a spectacular panoramic view, and see New Hampshire, Maine, Vermont, Quebec, and the Atlantic Ocean or visit the Sherman Adams Visitors Center, Mount Washington Observatory's Weather Museum and the 1853 Tip Top House.

Fall

Giant Pumpkin Weight Off and Regatta, Goffstown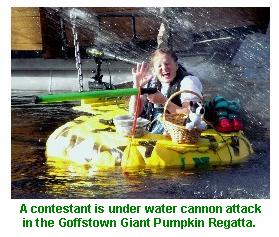 [Mid-Late October] -- Have you ever wanted to paddle a pumpkin? No, not like discipline, but as a boat? Local residents compete by racing upstream in genuine giant pumpkins! Beware the pirates or sharks with water cannons!

Highland Games, Lincoln [Mid-Late September] - Hear the bands and pipers, and performers and competitors of all kinds dedicated to the furtherance of the dance, music, athletics and customs of the Scottish people. A 3 day weekend, overall, it's probably the 3rd or 4th largest event in NH.

Pumpkin Festival, Laconia [Mid-October] - Traditionally held in Keene, Laconia adopted the event after unruly happenings near the event in 2014. This is fun for all ages.

Return of the Pumpkin People, Jackson [Full Month of October] - A competition with significant prizes, for vignettes of daily life and movie scenes, created entirely with dressed pumpkins. Different scenes on display in several places throughout a handful of towns. Think the creativity of sand or ice sculptures, except with props and pumpkins!

Seafood Festival, Hampton Beach [2nd Weekend of September] - Over 60 restaurants, 80 arts & crafts vendors, 100's of merchants offering end-of-the-season sidewalk sales, and continuous culinary demonstrations and entertainment. 150,000 People can't all be wrong!




Page: 1120-B