These days everyone's trying to make a buck and it seems like every little town is always hosting some event. We get it.

To help you, our visitors, here's a list of the ones we think are truly worth going out of your way to see, listed by approximate dates.

January


Snow Sculpting, Jackson - This event attracts a wide variety of sculptors, both amateur and professional. Other weekend activities include a welcome reception dinner, with a bon fire (weather permitting) along with roasting of marshmallows, sleigh rides and more.


February
New England Pond Hockey Classic, Meredith - GREAT hockey played on lake ice, with participants from all over America.


March
NH Maple Weekend, Statewide - Sponsored by the NH Maple Producers Association, sugar houses will be open to the public, with fresh products, etc. Some locations are offer free tasting-sized samples, and some offer pancake breakfasts, petting farms and entertainment.


April
Made In NH Expo, Manchester - Showcases the wide variety of quality consumer products and services made right here in the Granite State.

Discover Wild NH Day, Concord - See live animals, big fish and trained falcons. Participate in archery, casting, and crafts for the kids. Explore new trends in recycling, environmental protection and check out energy-efficient hybrid vehicles.


May
Sheep & Wool Festival, Deerfield - If you love wool or sheep, this is the place to be in May!

Renaissance Faire, Kingston - An educational, visual, theatrical and 'fantastical' event. From knights to fairies, NHRF brings together education and fun for the whole family.

Winni Derby, Lake Winnipesaukee - NH's leading annual Landlocked Salmon and Lake Trout derby with over $50,000 in Daily and Major Prizes!


June
Bike Week, Laconia - 90+ Years strong, this is arguably the largest event in NH. Book accommodations EARLY...

Hot Air Balloon Craft and Music Festival, Quechee, VT - OK, NOT in NH, but immediately next door ~ the longest continuously running Hot Air Balloon Festival in New England.

Annual Celebration of Lupines (Lupine Festival), Sugar Hill - Have you ever just wanted to wander in an idyllic pasture, with commanding mountain views, just communing with Mother Nature? Here's your chance. ACRES of cultivated lupin with inspirational signs and mowed pathways in a quaint New England town!

New England Brewfest, Lincoln - Breweries from across New England will gather on a late June Saturday to tap into their exceptional brews.

Rock'n Ribfest, Nashua - Enjoy the best barbecue in New Hampshire with a variety of music and entertainment!

Sand Sculptures, Hampton Beach - 250 Tons of imported sand, and invitational only competitors, it's the largest Masters competition in the Northeast United States.


July
Balloon Festival, Hillsboro - Running for decades, this event is fun, family friendly and colorful. Imagine a fireman's muster, balloon festival and fair food. MMM

Canterbury Country Fair, Canterbury - Attractions include children's games on the green, traditional Morris dancing, a huge What-Not Sale, a used book sale, antiques, juried crafts, and music, always local musicians.

Fireworks, Hampton Beach - Ah, the salt air, the crashing of waves, the smell of sulfur, charcoal, and potassium nitrate, and the beauty of the colored sparkles in the sky!


August
Craftsmen's Fair, Newbury - League of NH Craftsmen's Fair is 80+ years old. Starting the first Saturday in August and running for nine days, it showcases the work of some of the finest craftspeople in the country.

Hopkinton State Fair, Contoocook - Almost 100 years old, and lasting 5 days, this is the BIGGEST fair in NH. Always 5 days long, beginning the Thursday before Labor Day weekend.

Living History Event, Hillsboro - Step back in time and try your hand at panning for real gold, help throw a pot on the potter's wheel, be a student in a real 1800's schoolhouse, cast your own pewter spoon, watch the Cavalry charge and so much more.

Medal Day, Peterborough - The very private and almost cloistered MacDowell Colony serves as an inspiration, incubator, refuge and secluded workshop for uber-talented artists of all types. Once a year they open their doors to the general public to award the Edward MacDowell Medal to an artist of enduring vision and creativity.

White Mountain Boogie N' Blues Festival, Lincoln - The 2012 recipient for the best US Blues Festival, this 3 day festival has something for everyone in the family.


September
Deerfield Fair, Deerfield - 135+ years of Agricultural Family Fun!

Highland Games, Lincoln - Hear the bands and pipers, and performers and competitors of all kinds dedicated to the furtherance of the dance, music, athletics and customs of the Scottish people. A full weekend long, overall, it's probably the 3rd or 4th largest event in NH.

Mt. Washington Valley Mud Bowl, North Conway - 3 Days of tackle football in the DEEP mud for charity. What could be better?

Seafood Festival, Hampton Beach - Over 60 restaurants, 80 arts & crafts vendors, 100's of merchants offering end-of-the-season sidewalk sales, and continuous culinary demonstrations and entertainment draw 150,000 people daily.


October
NH Film Festival, Portsmouth - Each weekend after Columbus Day this 4 day festival supports the art of filmmaking and presents some of the best in recent independent cinema from the region, the nation and the world.

Pumpkin Festival, Keene & Laconia. - For decades NH's famous Pumpkin Festival (30,581 pumpkins in 2013 alone) was held in Keene, but in 2014 unruly students caused a literal riot and the town fathers said 'nyet' to continuing the tradition. Laconia eagerly took the reins in 2015. In 2018, Keene folk, yearning for the old tradition, successfully lobbied city hall to restart the event, although on a smaller scale. Take your pick!


November
SNOB Film Festival, Concord - Over 10 years old, the Somewhat North Of Boston (SNOB) film festival features events that highlight indie craft brew and local indie music, and, of course with great indie films tying it all together.


December
Gift of Lights, Loudon [November - December]
- Imagine a winter wonderland! Spanning over two miles, the Gift of Lights features over 60 holiday scenes and over 400 light displays at the New Hampshire International Speedway.


And For Fun


Alton Weegle Day, Mt. Washington [June]
- Would you believe people, climb the Mt. Washington Auto Road on pogo sticks? From camels to unicycles to Segways to pogo sticks, see how people try their wacky ways to ascend the mountain on this "anything goes" wacky day!

Giant Pumpkin Weigh Off and Regatta, Goffstown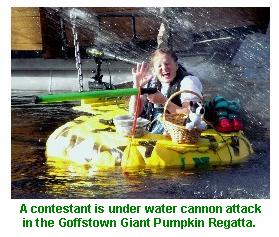 [Mid-Late October] - Have you ever wanted to paddle a pumpkin? No, not like discipline, but as a boat? Just kidding... everyone uses an electric motor in this race, and yes.. they are racing upstream in genuine giant pumpkins! Beware the pirates with water cannons!

Holiday Cookie and Candy Tour, Greater North Conway [December] - What could be better than seeing little country inns, totally decked out for Christmas, and getting a GREAT cookie at each stop? It's pure holiday magic!

Return of the Pumpkin People, Jackson [2 1/2 Weeks in October] - A competition with significant prizes, for vignettes of daily life and movie scenes, created entirely with dressed pumpkins. Different scenes on display in several places throughout a handful of towns. Think the creativity of sand or ice sculptures, except with props and pumpkins!

RiverFire, Berlin [Mid October] - Family fun that draws thousands, NH's northern most city offers fun, games, and Halloween adventures. A collaboration by several groups makes this ever growing event bigger and better each year. And yes, the boom piers are all bonfire hosts! FREE ADMISSION. Do check out their web site (although it doesn't do this event justice!)

Sunrise Drives, Mt. Washington [3xs Each Summer] - Grab your sweetheart and do this one! Drive to the summit of Mt. Washington and watch the sun rise from 6,000+ feet. Breathtaking!





Page: 1112-A